Piano and Orchestra CPO 999 483-2
with Rundfunk Sinfonieorchester Saarbrücken, Hans Zender
Total playing time 48'00"
1997 – Saarlandischer Rundfunk
Recording supervisors Gunter Braun, Helmut Fackler
Recording Engineer Helmut David
Morton Feldman composed Piano and Orchestra for Roger Woodward in 1975.
Read More...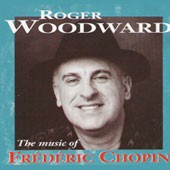 Total timing 72'40"
1992 Warner Music Australia, Steinway piano
Executive Producer Andrew McKeich
Recording Producer Ralph Lane
Recording Engineer Allan MacLean
http://www.buywell.com/cgi-bin/buywellic2/00175.html
Read More...
Fryderyk Chopin Piano Concerto No 2 F-Minor Op 21
(Original version for piano and string quartet)
Ludwig Van Beethoven
Piano Quartet No 3 C-Major WoO36
Roger Woodward, piano
Alexander String Quartet
Celestial Harmonies
http://www.blacksun.com/releases/13277.htm
Read More...
Total playing time Disc 1 - 58'17"; Disc 2 - 65'66"
2006 Celestial Harmonies,
http://www.harmonies.com
Producer/Engineer Ulrich Kraus, Munich
This is a powerful production! Woodward has total control of the sound and at the same time enormous freedom in his playing. One could say that the piece 'plays itself' as stated in the booklet. This is one of the really great pianists of our time….... Wilfried Schäper, Radio Bremen
Read More...

13259-2 Stundenbuch/ Book of Hours - Composed by Hans Otte (.pdf) BBC Review Roger Woodward,
Released July 2007
http://www.blacksun.com/releases/13259.htm
http://www.classicalsource.com/db_control/db_cd_review.php?id=5568
Read More...