Year: 1995
Total playing time 77'56". ABC Classics. Steinway piano.
Executive Producer Matthew Freeman;
Producer and editing Ralph Lane
Engineer : Allan Maclean
Read More...

Iannis Xenakis Kraanerg 70'47"
Roger Woodward, conductor
Alpha Centauri Ensemble
recorded in the Opera Theatre at the Sydney Opera House
24 November 1988 (with original tape 1969 Xenakis)
Read More...

A beautiful collection featuring music in miniature by Mozart, Schubert, Grieg, Debussy, Brahms, Mendelssohn, Liszt and Beethoven – prominent figures in Roger's acclaimed 30 year performing career.
It is often forgotten that most classical music of the 18th and 19th centuries was designed purely as popular entertainment and Roger has been a prime mover in re-establishing the popularity of this music in the 20th century. In traditions established by Dame Nellie Melba and Percy Grainger, Roger Woodward tours the country outback of Australia as well as giving recitals in major concert halls. LITTLE MASTERPIECES features many of the pieces that Roger has presented in those very recitals.
Read More...

This enchanting collection presents some remarkably beautiful but seldom heard masterpieces by Ilinsky, Cui, Suk, Borodin, Palmgren, Fuchs & MacDowell presented alongside lovely pieces by some of the world's favourite composers. Especially notable are the famous lullabies by Faure & Brahms
Roger's performances on LULLABY are, as ever, outstanding in their sensitivity and nuance and only enhance his reputation as one of the world's great interpreters of classical piano repertoire.
Read More...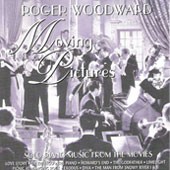 Solo piano music from the movies
Total playing time 61'02"
1996 Artworks Steinway Piano
Producer Andrew McKeich
Engineer Ron Craig
A collection of classic movie themes personally selected and masterfully performed by Australia's premiere concert pianist
Read More...