Roger Woodward was awarded the coveted Chevalier de l'ordre des Artes et des Lettres by the French Government in December 2004. He reflects on his relationship with that country and its music.
Focus on France – a personal memoire

France has provided me with extremely fine musical experiences. In the 'seventies I met and worked with Pierre Boulez and the BBC Symphony Orchestra A film was made by Michael Shannon of our collaboration preparing the Bernard Ranz "Mésallianz". I subsequently appeared with Boulez playing Bartok at the Bath Festival and performed his solo chamber works on many occasions. I also met and worked with Olivier Messiaen on the UCLA campus in 1972 and played for him his own music as part of my debut in the USA - a memorable collaboration with Zubin Mehta and the LAPO Brass. I met the historic figure at the rehearsals of Eonta by Iannis Xenakis, a much-loved and venerated student of whom Messiaen was fond. At that stage I had not yet met Xenakis himself nor any of the other celebrated Messiaen students, whose music I had been playing in Australia before I ever came to Europe – Jean Barraqué, Pierre Boulez, Gilbert Amy, Iannis Xenakis, Karl-Heinz Stockhausen, Luciano Berio, and others.
Messiaen came to my LAPO debut directed by Zubin Mehta. He was already aware that I would perform the Barraqué Sonate in London at the Roundhouse a few months later, for the BBC; that I would be collaborating with Jean Barraqué, and that I would be recording his magnum opus for EMI international (Abbey Road). Barraqué had also been a student of Messiaen's in the early fifties.
Subsequently, I played both the Barraqué Sonate (on at least 30 occasions) and Xenakis Eonta (on at least 40 occasions) throughout Europe, Japan, the USA and Australia, together with Xenakis' other two Concertos, solo piano works and Barraqué's and Xenakis' chamber music. I also began directing their larger works.
I also worked with Barraqué at the Royan Festival, with Xenakis in Rouen, Paris (many times), London, Vienna. I was invited by Sviatoslav Richter to perform with the Arditti Quartet at La Grange de Mesley, Festival de Tours. I worked with many French conductors both in Australia, in France and in many other countries, including Diego Masson a number of times.
In 1981, Xenakis composed his largest solo piano work - Mists - for me without commission. It was followed in 1986, by the dedication to me of his magnificent third Piano Concerto : Keqrops which I premiered with the New York Philharmonic at the Lincoln Centre, directed by Zubin Mehta. I played Xenakis' Eonta in subsequent seasons with Mehta in LA and Tel Aviv and repeated Keqrops with Mehta and l'Orchestre de Paris for the Festival d'Automne à Paris in 1989. There I met Messiaen at rehearsal with Xenakis, just a few months before Messiaen's death. I recorded Keqrops (live) for Deutsche Grammofon Gesselschaft (DGG) 'live', from the 1993 Wien Modern, directed by Claudio Abbado.
From 1989-2002, I directed a Festival of New Music in Sydney at the Art Gallery of NSW, the Australian Broadcasting Corporation and at the Sydney Opera House, entitled the 'Sydney Spring' which was very often dedicated to the music of French composers and the work of French performers. The concerts were all recorded and transmitted by the Australian Broadcasting Corporation (ABC Classic FM) and archived into recording format. The concerts were accompanied by symposia, publications and a series of recording releases through the Dutch Recording Company: 'Etcetera records BV.' and ABC Classics, managed by a brilliant and enterprising Frenchman who directed the highly successful recording operation out of Amsterdam, guaranteeing complete worldwide distribution and major press coverage. Several of his releases from the 'Sydney Spring' won Le Diapaison d'Or from the French critics.
Having collaborated with Gilbert Amy in the mid-nineties in Lyon and in other festivals in France, I invited Amy to Sydney for my own "Sydney Spring" festival, as well as flautist/composer Pierre-Yves Artaud (on two occasions) and the Ensemble Intercontemporain Brass Quintet.
The 26 performances of Xenakis' Kraanerg with Sydney Dance, produced with my then Chamber Orchestra (Alpha Centauri Ensemble) resulted in a recording collaboration for Etcetera at the Sydney Opera House. The compact disc for Etcetera has been released four times since 1988 to highly enthusiastic international critical acclaim.
The Alpha Centauri Ensemble then toured throughout Europe with an all-Xenakis programme of twelve concerts in 1993 including appearance at Huddersfield Festival of New Music (recorded by BBC Radio 3 and BBC Television); Le Festival d'Automne à Paris, La Scala (main hall) and Santa Cecilia Academia, Rome. The reviews for the tour were on a very high level.
I have recorded (almost) the complete piano works of Debussy and played them constantly in programmes where the context portrayed Debussy as the most important founding father-figure of twentieth century modernism. I filmed documentaries with Boulez and Xenakis - the latter for BBC TV produced by Mark Kidel in which I play Eonta' and Keqrops (with Orchestre de Paris).
In 1989 I was commissioned by the Bicentennial of the French Revolution to compose a major work for performance at the Le Festival d'Automne à Paris during the Bicentennial celebrations. The work, Sound by Sound, was recorded by Radio France, Spanish Television, BBC at the Almeida Festival London, and Australian ABC-FM live at the Sydney Spring festival.
The future will, I hope, find me increasingly in France : I am still to record Xenakis' solo piano piano works (including the work he wrote for me) and Eonta. I would like to prepare these works in France and record them with a French director and French musicians as part of a special study period in my life for two or three years. I would also like to prepare and re-record the Barraqué Sonate together with works by Amy, Boulez and the younger generation of French composers – Aperghis, Dusapin, Gaussin. Over the past thirty years I have, fortunately, witnessed Barraqué's international professional standing turn into that of an almost mystical cult figure sought after all over the world, and published and recorded by many other musicians. I have just written the introduction to Paul Griffiths' biographical study, to be published by the University of Rochester Press in 2004. I would like to continue to play and record his chamber music as well as that of Xenakis, Messiaen, Boulez, Amy and the new French composers, with French musicians, and invite them to Australia as I have done before so many times.
I think back to the film made of my working with Boulez in 1972 with the BBCSO and the subsequent collaboration with him at the Bath Festival, at the Roundhouse and would love to revisit his wonderful piano and chamber works and spend more time re-discovering them.
Having given many workshops over the last thirty years devoted to French music by Debussy, Messiaen, Xenakis, Barraqué, Boulez and Amy, I would very much like to spend more time working at works by Boulez, Duttilleux and the younger generation of French composers.
I recently published several major articles on Barraqué and Xenakis, as part of a series of Essays I have been writing on French composers. The article on Barraqué was published in hardback by Greenwood Press, USA and the article on Xenakis by The New Music Review, Harwood Press, UK. At the moment, I am working with the Rochester Press, USA and British Musicologist Paul Griffiths on a major, new Barraqué publication which will be released internationally in hardback and for which I have been asked to write an Introduction for the publishers. I am writing a series of Essays myself on French Music ranging from Debussy to Messiaen, Boulez, Barraqué and Xenakis.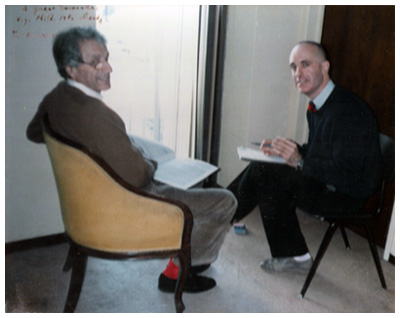 Page 1 of 1 pages for this article