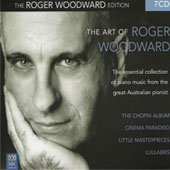 The Roger Woodward Edition - 7 CD set.
Re-release by ABC Classics 476 8781

The Chopin Album - 2 CDs
476 8782
Nocturnes, mazurkas, waltzes, preludes, etudes and more. Double CD includes the Raindrop Prelude, Military Polonaise and Fantaisie-Impromptu.
Cinema Paradiso - 2CDs
476 8785
Music from the silver screen, including themes from The Godfather, Casablanca, Love Story, Dr Zhivago, The Man from Snowy River, Picnic at Hanging Rock, Schindler's List, Cinema Paradiso and more.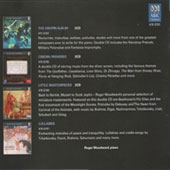 Little Masterpieces - 2 CDs
476 8788
Bach to Bartok, Mozart to Scott Joplin. Beethoven's Fur Elise, Preludes by Debussy, The Swan from Carnival of the Animals, with music by Brahms, Elgar, Rachmaninov, Tchaikovsky, Liszt, Schubert and Grieg.
Lullabies
4767 8791
Cradle songs by Tchaikovsky, Faure, Brahms, Schumann and many more.
Available from the ABC Classics (Sydney Australia) and selected stores