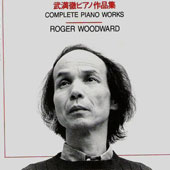 Takemitsu Complete Piano Works, with Etcetera Records BV. KTC 1103 (1990)
(with Rolf Gehlhaar, bowed cymbal, track 11)
Total playing time 78'29"
1990 ABC Classics / Etcetera Recordings BV Steinway piano
Recording Producer Ralph Lane
Engineers Allan Maclean, Yossi Gabbay
TRACK LISTING
• Rain Tree Sketch
• Les yeux clos – I and II
• For Away
• Litany – I and II
• Piano Distance
• Uninterrupted Rests (3 poems on a text by Takiguchi Shuzo)
Slowly, sadly, and as if to converse with
Quietly and with a cruel reverberation
A song of love
• Corona and Crossing

Reviews:

http://www.musicweb-international.com/classrev/2002/Aug02/Takemitsu.htm
Gary Higginson : Roger Woodward is a real Takemitsu expert with works such as 'Uninterrupted Silence' dedicated to him by the composer. He loves and understands this music, with its myriad difficulties…..

Gramophone : It's good to see Roger Woodward back in the recording studio…. his pioneering recordings back in the 1970s did much to further awareness of many European and Australian composers… the enterprising Netherlands-based label Etcetera, have pounced on this remarkably talented musician and are bringing us a series of recordings…. Roger Woodward's refined pianism and communicative skills allow the listener to enjoy this subtle, fastidious music to its full potential….