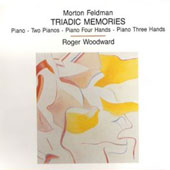 2 CD set
Performed at the First Sydney Spring International Festival of New Music & Visual Arts
Art Gallery of New South Wales, 1990
Recorded 1990, ABC Studios Sydney
Sound producer : Ralph Lane
Sound engineer : Allan Maclean

"Triadic Memories" is jointly dedicated to Aki Takahashi and Roger Woodward. Feldman described the work the "biggest butterfly in captivity".

TRACK LISTING
CD-1
• Triadic Memories (beginning)
playing time 73'26"
CD-2
• Triadic Memories (conclusion) (14'08")
• Piano (26'36")
• Two Pianos (3'39")
• Piano Four Hands (7'31")
• Piano Three Hands (19'16")
with Ralph Lane, piano (CD2, tracks 4 & 5)
Reviews:
http://www.cnvill.demon.co.uk/mfjack.htm
Notes collected by Adrian Jack: A day of new music (Dominic GIll, Financial Times, 6 October 1981; Morton Feldman's Triadic Memories (Robert Henderson, Daily Telegraph, 6 October 1981; Feldman premiere (Hugo Cole, The Guardian, 5 October 1981):
... Woodward's performance was an extraordinary feat of control; to play for 90 minutes pianissimo and almost senza espressione must be the hardest thing in the world…
http://www.stylusmagazine.com/feature.php?ID=423
http://www.stylusmagazine.com/feature.php?ID=423
Le Monde de la Musique (Juin 91), Rating ***
Quelle que soit l'affection qu'on peut éprouver pour une nature aussi foncièrement revêche que celle de Morton Feldman, l'écoute n'est pas aisée….
Télérama, 10 avril 1991
Alors, on se lance? On plonge ensemble dans ce large lac immobile, loin de bruit et de la fureur des villes?… Faut-il le préciser? Roger Woodward – à qui Triadic Memories est dédieé- est tout bonnement sublime. ….
Fanfare, July/August 1991
Morton Feldman's music seems to be undergoing a revival of interest in the CD era, and thank heavens for that!….. . Woodward's playing is quite remarkable throughout, especially in Triadic Memories ….
CD-Besprekingen
Enkele jaren geleden kostte het nog de grootste moeite een opname met muziek van Morton Feldman te vinden…..